As 2022 comes to a close, Arts Horizons is reflecting on the past 44 years of enhancing the lives of students through the arts. At Arts Horizons, we have strived to create equal social emotional and learning opportunities for students of all ages and abilities to engage in Visual and Performing Arts.
With support from teaching artists, schools, students, and the community, we are pleased to look back on our positive collective efforts. Especially, the efforts of one wonderful community member, Ms. Pheobe Schutzer a local ambassador for the non-profit "Donate2Dance". Donate2Dance is a non-profit organization whose mission is to collect gently worn dance shoes, costumes, and dancewear to donate to dance schools in need across the country.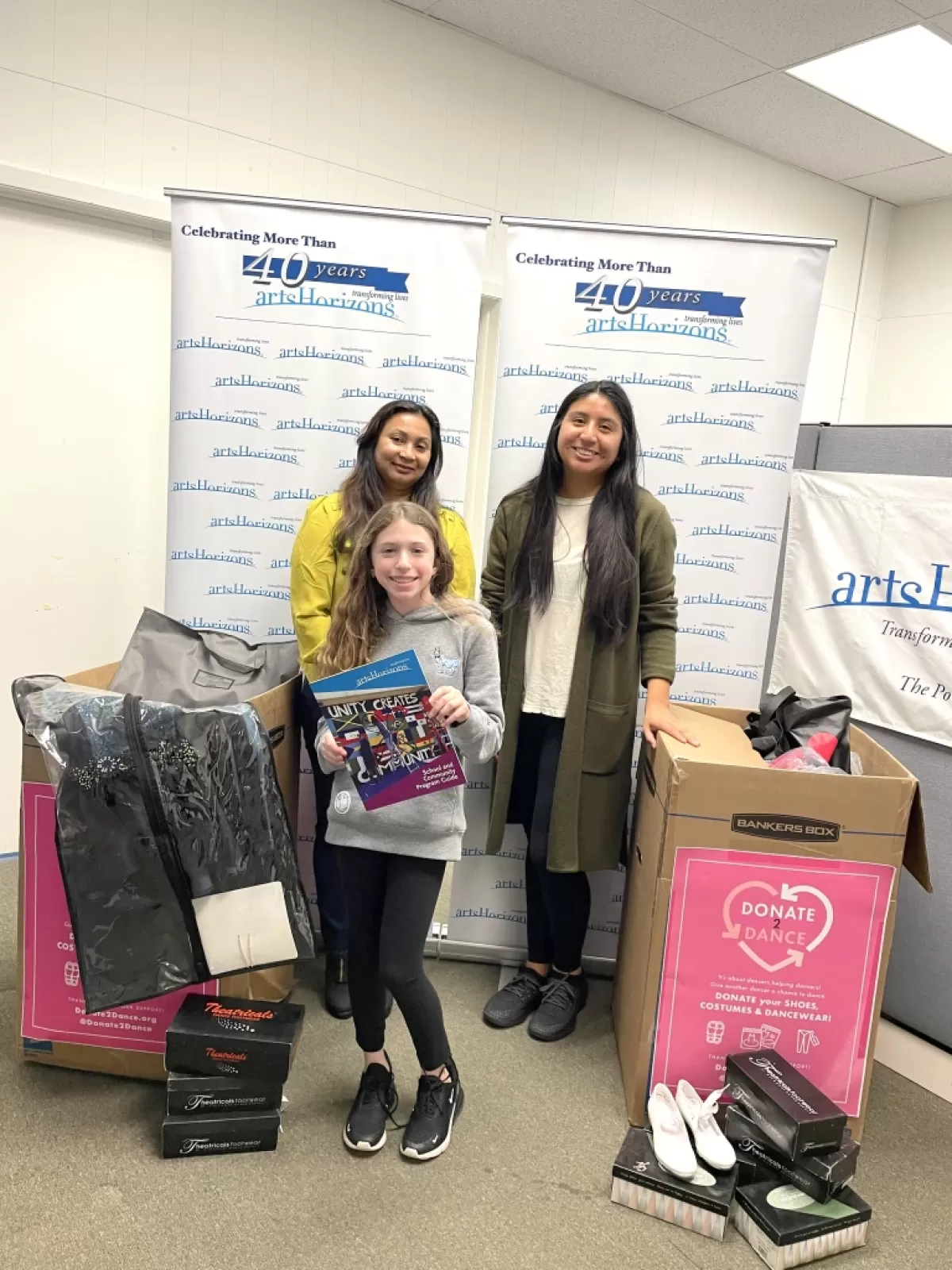 Pictured: Marion Ahamat, Program Manager; Pheobe Shutzer with Donate2Dance, and Felysse Goldman, Program Coordinator
Ms. Pheobe Schutzer and her family (with guidance from Donate2Dance) graciously donated dance performance wear, practice wear and a variety of dance shoes which were collected from the community. Their efforts resulted in the collection of over 160 dance items that will go towards Arts Horizon's many theatre and dance programs in New York and New Jersey.
We thank you, Ms. Phoebe Schutzer and Family, in affiliation with Donate2Dance, for your efforts to support the community and upcycle dance wear. These donations will assist our teaching artists in uplifting the students and their communities through the arts and help create a new generation of leaders, creatives, and thinkers for innovation and social change. 
As we emerge from the challenges of the pandemic, we will continue to champion the arts for our communities of students and teaching artists. Whether you can donate, share our message, and volunteer your time, your support makes a difference and propels the community forward.
Donate Now
Follow us on Social Media
For more information, please contact:
Marion Ahamat
Program Manager
marion@artshorizons.org 
212-268-7219 ext. 105
201-567-1766 ext. 105