AH Celebrates Hispanic Heritage Month, September 15th – October 15, 2022
Join Arts Horizons in a vibrant celebration of the heritage, artistry, culture and pride of the Afro-Latinx, Latinx, and Hispanic communities. While Hispanic Heritage month is celebrated from September 15th to October 15th, our assembly programs and arts workshops delight and educate audiences all year long. Preview some of our brilliant programs that highlight the rich artistic traditions of Central and South America, the Caribbean, Spain, and the United States including:
SALSA FESTIVAL: Live Performance Assembly led by Mr. Louis Bauzo
Using a variety of jazz and authentic Latin percussion instruments, talented musicians explore the Afro-Cuban roots of Salsa and its more contemporary variations. In Spanish, the word "salsa" means "sauce." Salsa music is a spicy mixture of rhythms originating from many different cultures. Using a variety of jazz and authentic Latin percussion instruments, five talented musicians explore the Afro-Cuban roots of Salsa and its more contemporary variations. Students are introduced to basic techniques, the role of each instrument, and the concept of the clave rhythm – the unifying element of Salsa. The tremendous influence that Latin American music and American Pop and Jazz have on each other is demonstrated in the Arts Horizons live performance assembly, Salsa Festival
Mr. Louis Bauzo is the band Leader and Percussionist who has played with many of the top Latin bands including the Tito Puente Orchestra, Machito and Eddie Palmieri. Educated at the Juilliard School of Music, he has also studied African and Latin cultures and music in Africa, Puerto Rico and Cuba. He has taught Latin percussion at the Boys Harbor Center for Performing Arts for the past 25 years and acted as a consultant for Harbor Performing Arts Center during the US tour of Conjunto Folklorica Nacional de Cuba. He has recorded with Paul Simon and Manhattan Transfer, and performed in many TV commercials including Coca Cola.
VIVA MEXICO! Live Performance Assemblies and Workshops with Calpulli Mexican Dance Company
Congratulations to Calpulli's Cofounder and Artistic Director, Alberto Lopez who was honored as one of 78 Notable Hispanic leaders of 2022 by Craines New York. The esteemed individuals are honored for their accomplishments and their records of powering change. Mr. Alberto Lopez develops develops educational content with Calpulli Mexican Dance Company and works with dancers, artists and musicians to ensure the company's artistic cohesion and to celebrate Mexican culture. Arts Horizons values our work together to present live performance assemblies and workshops for students that incorporate dance, music and theater to promote the rich diversity of Mexican cultural heritage.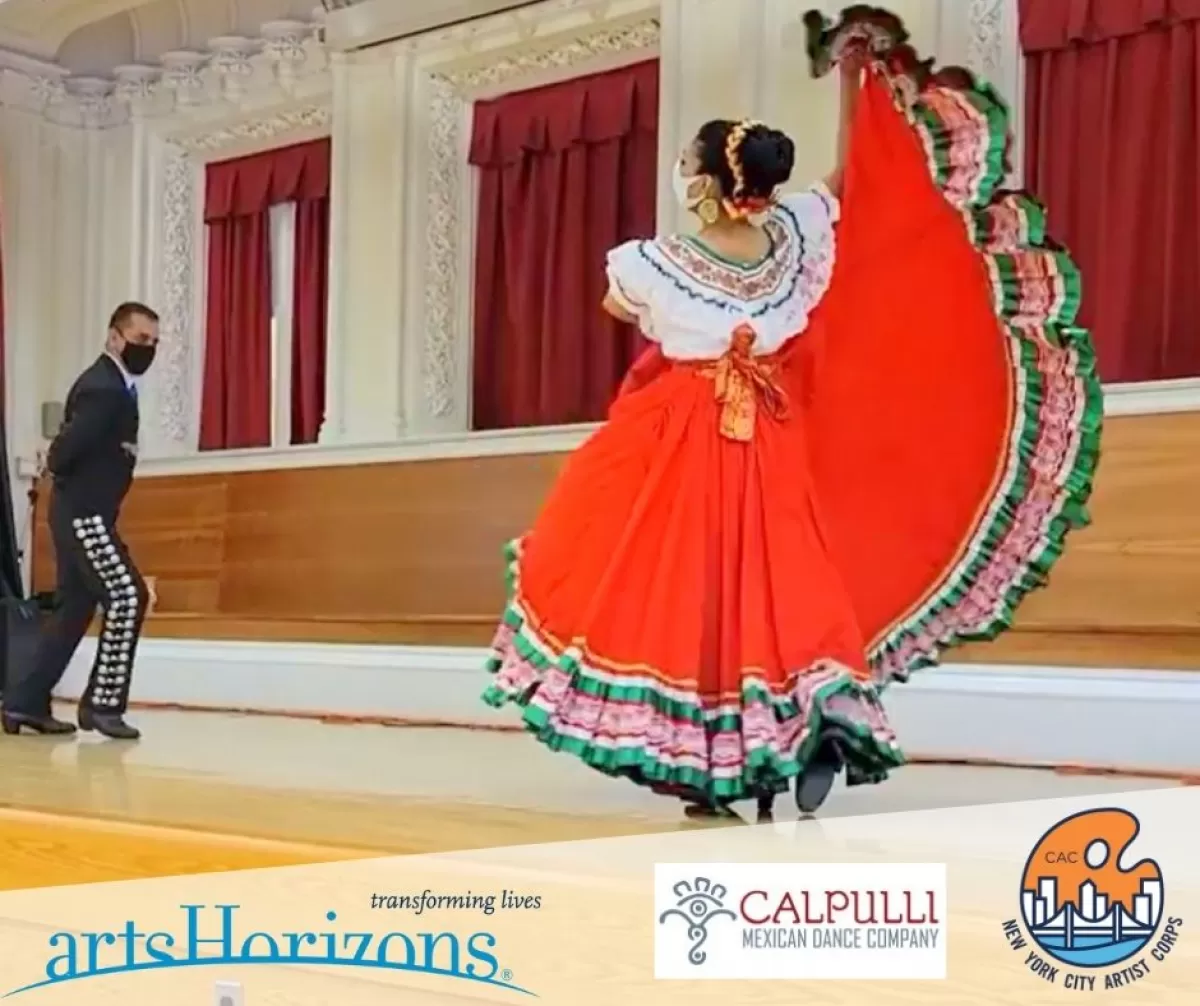 'Viva Mexico,' presents a colorfully costumed, engaging and passionate repertoire that presents Aztec dances and dances from states in Mexico such as Jalisco, Michoacan, Puebla, and Veracruz. Music is an important element of the performance. The music combines coastal Mexican rhythms, Aztec drums and sounds, and Mariachi to create a stimulating visual and auditory performance.
Calpulli celebrates the rich, regional dance traditions of Mexico's diverse cultural history interpreted through its unique artistic vision. The fresh, vital repertoire honors Mexico's past and immigrant life in the United States. Calpulli offers an array of programming to educators allowing access to the company's expertise in Mexican traditional dance, music, garment-making, and culture.
Additional Classroom and Family Workshops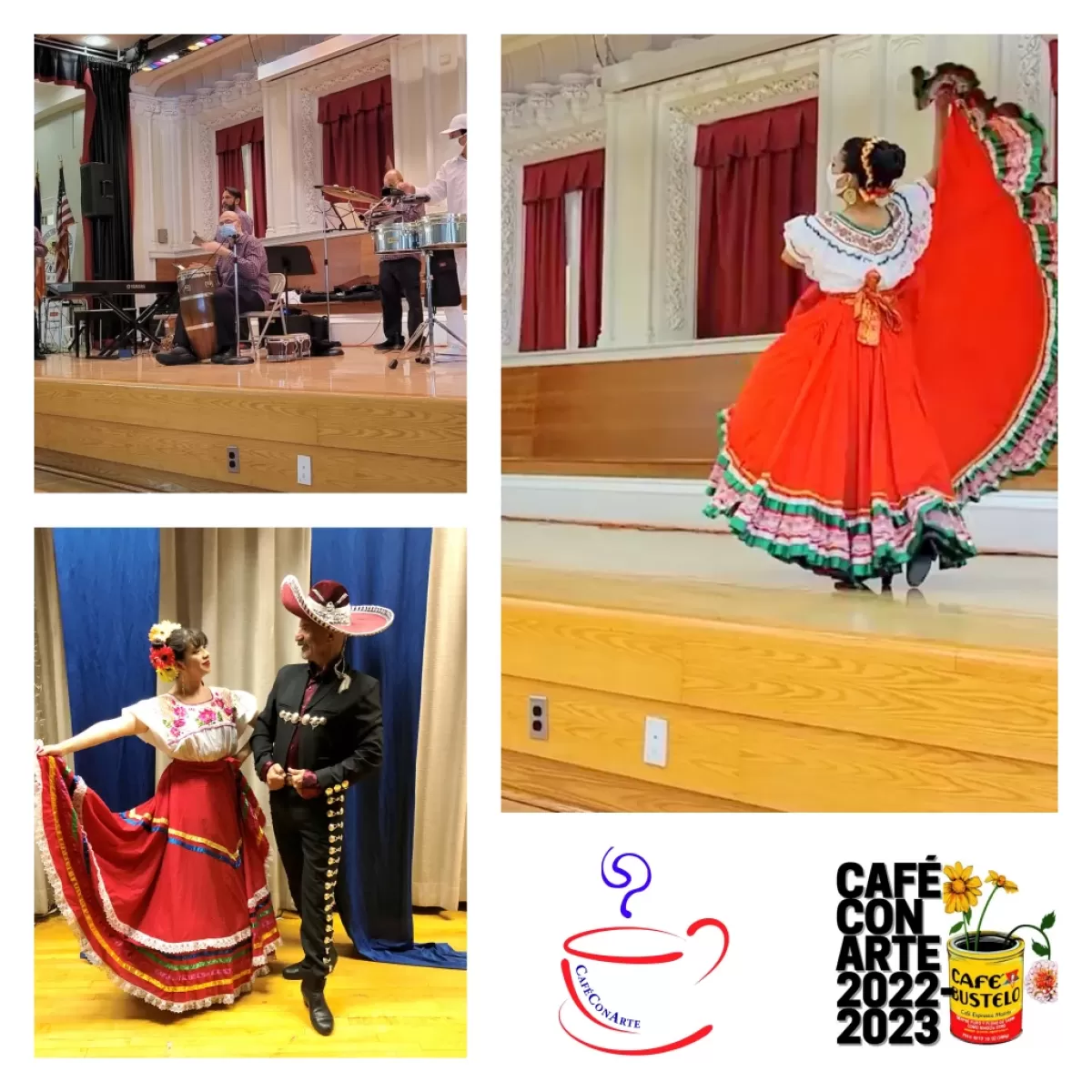 Latin Fusion Dance * Zumba * Afro-Cuban Dance * Afro-Cuban Percussion * Mexican Folk Dance * Visual Arts Workshops celebrating Hispanic and Latin Artists
For More Information or bookings, please contact:
Gloria Page, Manager of Performances
201-567-1766 ext. 120